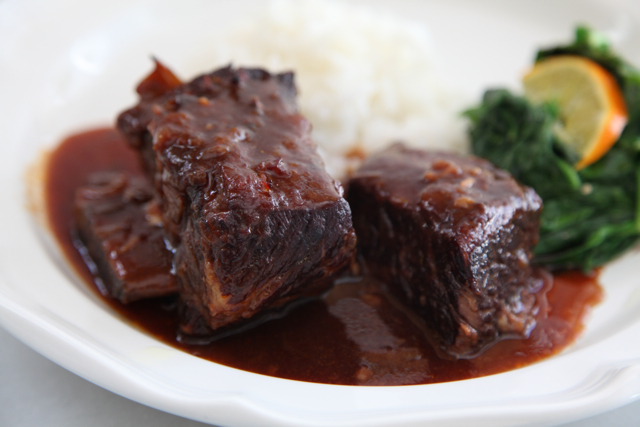 There's nothing more Catholic than sitting down together with friends and family and lingering over a well prepared meal. Yes, here is yet another post from my now defunct food blog, which I am slowly transferring over here. It's basically short ribs bourguignon. If you brown the ribs under the broiler, then add some stock, wine and port to braise for a few hours, this is what you'll end up with.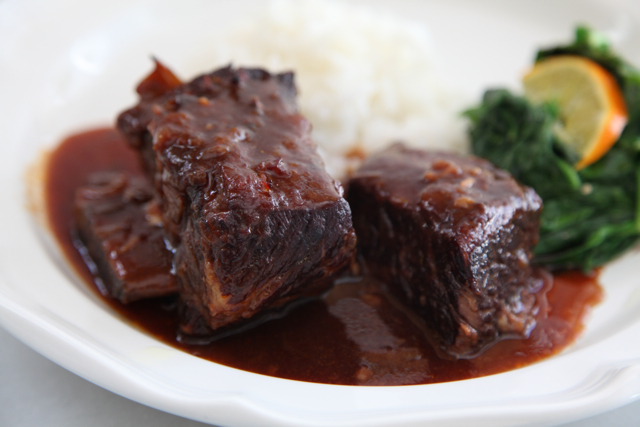 These are awesome.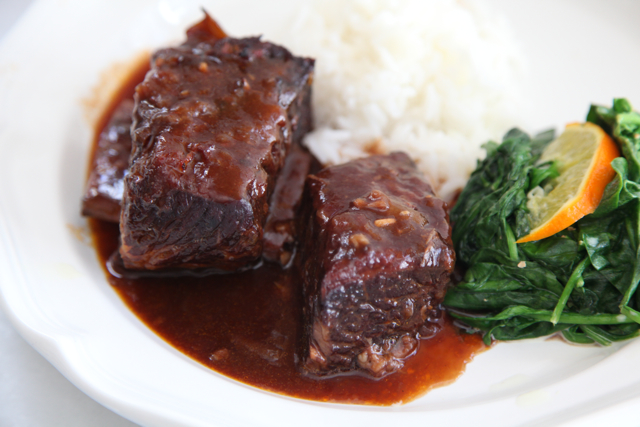 I was worried at first, but… Oh …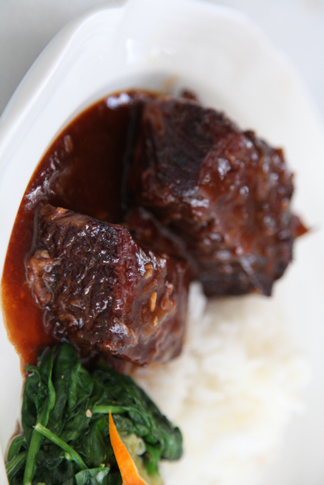 Uh…oh….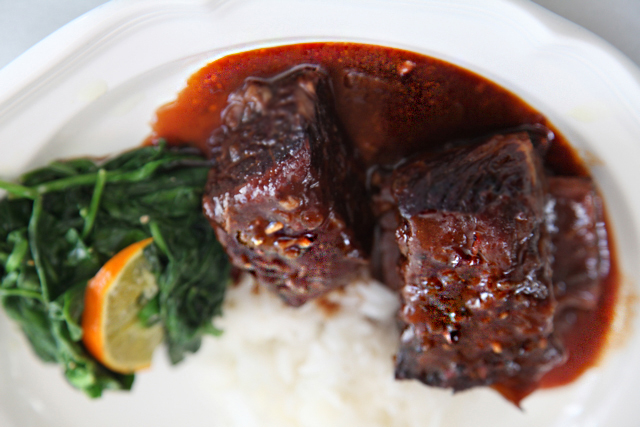 Oh my.
I'm merely conveying that I was blown away.
I had never cooked short ribs, and I was not a believer.
I lived in ignorance, and I'm not going back.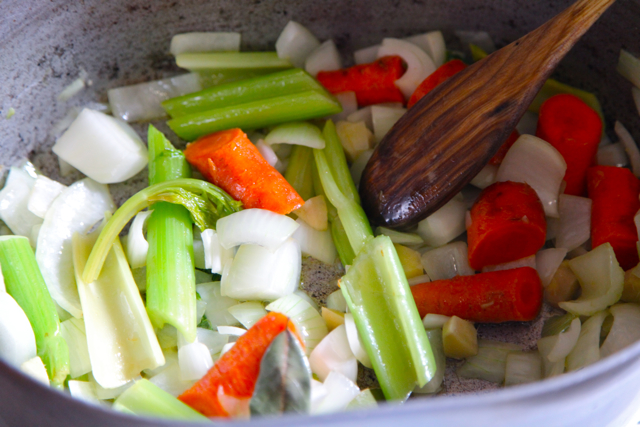 Behold the base of the braising liquid.
It starts so innocently.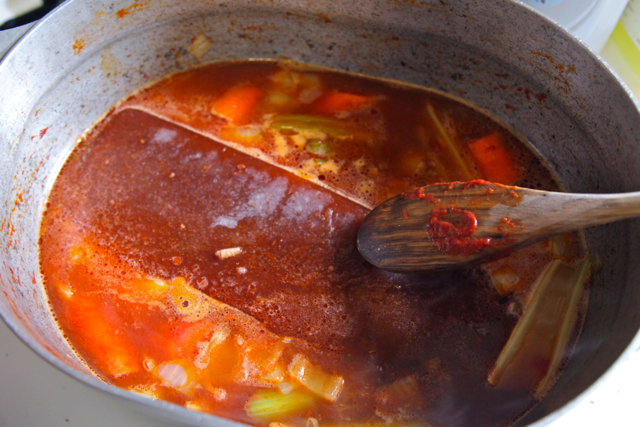 I get this block of frozen veal glace at Whole Foods. It's very good stuff and saves you from making your own.
I've made my own a few times, and buying a frozen block for $15 is actually cheaper where I live. It helps sauces taste worlds better. And if your living large with nine pounds of short ribs, then you may as well live large with some good stock in your braising liquid.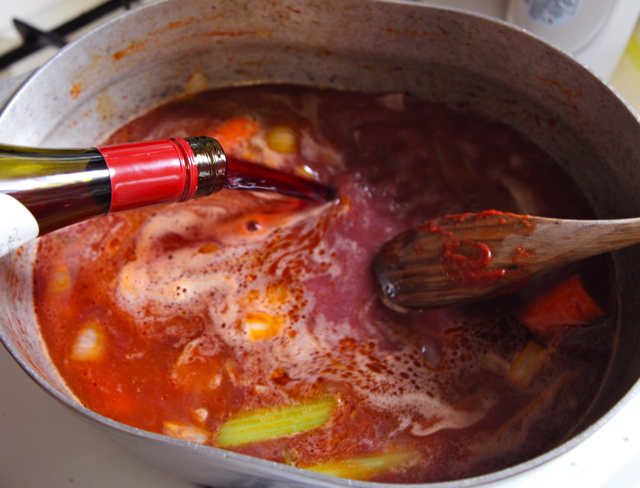 Red wine and port, this is looking good.
Still I was leary.
Short ribs always looked too fatty. And they cost as much as a tenderloin roast. So, I always went with the tenderloin. 20 ~ 30 minutes to sheer ecstatic eating pleasure? Hello?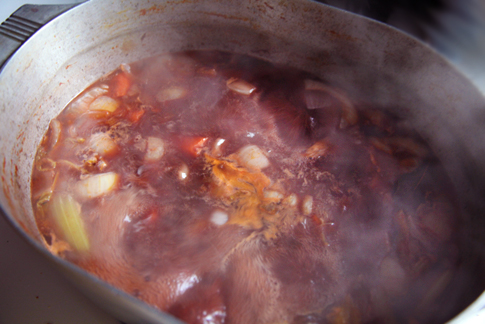 Flush with skepticism I forged ahead, got the liquid going, submerged the freshly browned short ribs and eventually braised away for hours and hours.
I did get a lot of work done in the meantime.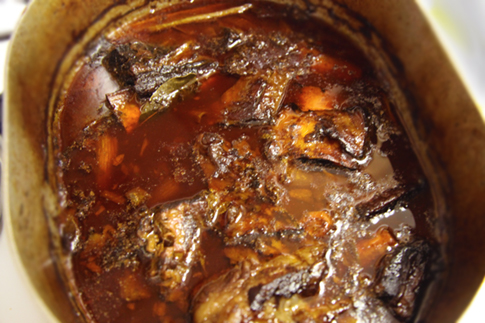 This didn't help the situation.
I was skeptical, fatigued, jaded. It looks so miserable.
It all cooled down and got refrigerated. It waited two whole days while all of life went on around us. It became a time capsule in my refrigerator, waiting until I was ready for it. The world slept.
And I almost completely forgot about it.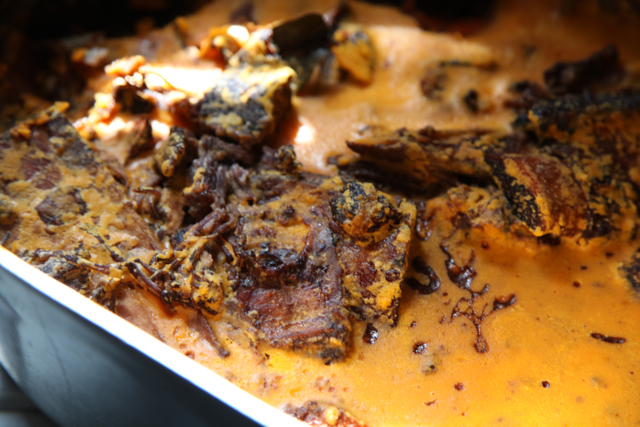 Then I saw this.
Still, it was defatted, placed in a shallow baking dish and surrounded with the magnificent braising liquid which, at the time was still all gellied up.
Underneath, it was a glace almost, an aspic even, a gelee. And it was so good.
And as it all warmed in the oven, and the aromas filled the air, my heart underwent a makeover which was so humbling. I realized this was just a new part of life that I had never had the pleasure of experiencing before. How could I have been so closed to the fullness life.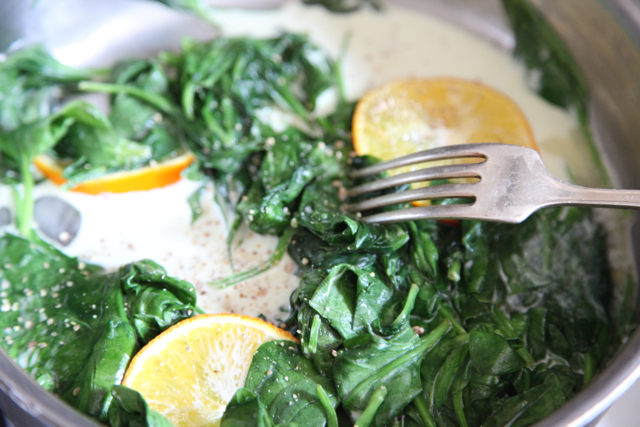 My gaurdedness was accompanied with my usual strange thing for wilted baby spinach, here in cream, etc. It's a side trail through the woods, but a nice one.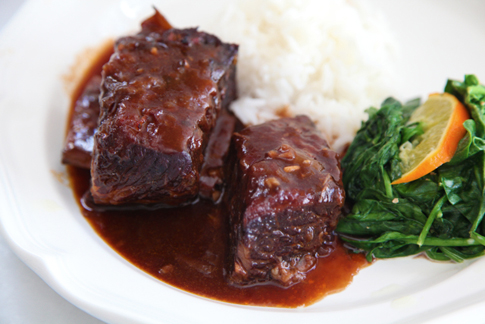 With some basmati rice, these amazing short ribs with the delicious beef falling off the bone, the spinach thing.
It's so simple.
I want it again.
And again and again.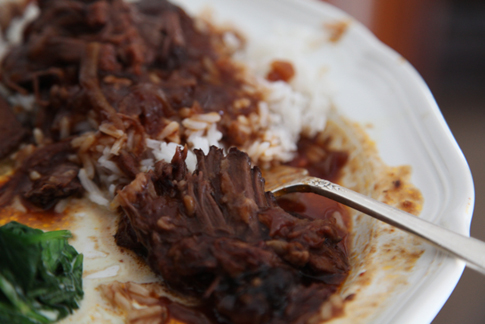 And after all of the photos I tried to get, I eventually no longer cared when I went back for seconds. Just pile that beef and unctuous sauce right on.
I hope you are able to make this yourself some day if you haven't already. I'll be off growing in humility.
Many thanks to Dorie Greenspan of French Friday's with Dorie for her cookbook and for everyone in that group which promotes these attempts. I'm grateful.
Update: These are actually meant to be served with a gremolata of orange zest, parsley, er, and a few other things. I'll be forced to make them again and give that a try.! I'd hate to miss out on all the deliciousness to be had.
{ 0 comments }