Here are some thoughts and articles on the Queenship of the Blessed Virgin Mary, a Memorial feast celebrated in the Church, yearly this day.
"Behold, you will conceive in your womb and bear a son, and you shall name him Jesus. He will be great and will be called Son of the Most High,* and the Lord God will give him the throne of David his father, and he will rule over the house of Jacob forever, and of his kingdom there will be no end." Luke 1: 31-33
"The queen stood on thy right hand, in gilded clothing; surrounded with variety. Hearken, O daughter, and see, and incline thy ear: and forget thy people and thy father's house. And the king shall greatly desire thy beauty; for he is the Lord thy God, and him they shall adore. … They shall remember thy name throughout all generations. Therefore shall people praise thee for ever; yea, for ever and ever." Psalm 44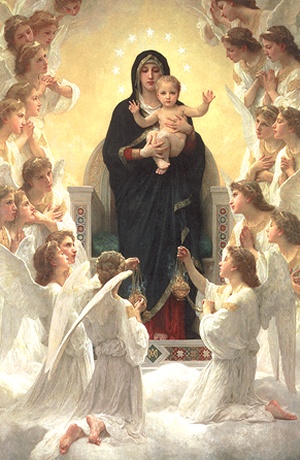 Pope Pius XII's Encyclical Ad Caeli Reginam is of course a must read:
And now, that We may bring the Year of Mary to a happy and beneficial conclusion, and in response to petitions which have come to Us from all over the world, We have decided to institute the liturgical feast of the Blessed Virgin Mary, Queen. This will afford a climax, as it were, to the manifold demonstrations of Our devotion to Mary, which the Christian people have supported with such enthusiasm.
Pius XII writes: "From early times Christians have believed, and not without reason, that she of whom was born the Son of the Most High received privileges of grace above all other beings created by God. He "will reign in the house of Jacob forever,"[5] "the Prince of Peace,"[6] the "King of Kings and Lord of Lords."[7] And when Christians reflected upon the intimate connection that obtains between a mother and a son, they readily acknowledged the supreme royal dignity of the Mother of God."
…
"The same thing is found in the writings of St. Jerome where he makes the following statement amidst various interpretations of Mary's name: "We should realize that Mary means Lady in the Syrian Language."[15] After him St. Chrysologus says the same thing more explicitly in these words: "The Hebrew word 'Mary' means 'Domina.' The Angel therefore addresses her as 'Lady' to preclude all servile fear in the Lord's Mother, who was born and was called 'Lady' by the authority and command of her own Son."
"Furthermore, the sacred liturgy, which acts as a faithful reflection of traditional doctrine believed by the Christian people through the course of all the ages both in the East and in the West, has sung the praises of the heavenly Queen and continues to sing them."
"All, according to their state, should strive to bring alive the wondrous virtues of our heavenly Queen and most loving Mother through constant effort of mind and manner. Thus will it come about that all Christians, in honoring and imitating their sublime Queen and Mother, will realize they are truly brothers, and with all envy and avarice thrust aside, will promote love among classes, respect the rights of the weak, cherish peace. No one should think himself a son of Mary, worthy of being received under her powerful protection, unless, like her, he is just, gentle and pure, and shows a sincere desire for true brotherhood, not harming or injuring but rather helping and comforting others."
From Father William G. Most, over at EWTN.
The Fathers of the Church soon picked up these implications. A text probably coming from Origen (died c. 254: cf. Marian Studies 4, 1953, 87) gives her the title domina, the feminine form of Latin dominus, Lord. That same title also appears in many other early writers, e.g. , St. Ephrem, St. Jerome, St. Peter Chrysologus (cf. Marian Studies 4. 87-91). The word "Queen" appears abut the sixth century, and is common thereafter (Marian Studies, 4, 91-94).

The titles "king" and "queen" are often used loosely, for those beings that excel in some way. Thus we call the lion the king of beasts, the rose the queen of flowers. Surely Our Lady deserves the title richly for such reasons.
And from that same article:
Of the four titles Pius XII gave for her Queenship, we notice that two are closely parallel to those of Jesus:

(1) He is king by nature, as God; she is Queen by "divine relationship" that is, by being the Mother of God. In fact her relation to her Son is greater than that of ordinary Mothers of Kings. For she is the Mother of Him who is King by very nature, from all eternity, and the relationship is exclusive, for He had no human father. Still further, the ordinary queen-mother gives birth to a child who later will become king. The son of Mary is, as we said, eternally king, by His very nature.

(2) He is king by right of conquest. She too is Queen by right of conquest. We already saw that this title for Him means that He redeemed us from the captivity of satan. She shared in the struggle and victory. Since the Pope expressed her dependence on Him in a threefold way–something we would have known anyway–then it is clear that he did not have in mind any other restriction which he did not express. So, maintaining this subordination, "by right of conquest" means the same for her as it does for Him.

(3) She is Queen by grace. She is full of grace, the highest in the category of grace besides her Son.

(4) She is Queen by singular choice of the Father. A mere human can become King or Queen by choice of the people. How much greater a title is the choice of the Father Himself!

…
In the Old Testament, under some Davidic kings, the gebirah, the "Great Lady", usually the Mother of the King, held great power as advocate with the king. Cf. 1 Kings 2:20, where Solomon said to his Mother Bathsheba, seated on a throne at his right: "Make your request, Mother, for I will not refuse you." Here is a sort of type of Our Lady.
Mary, Queen of Heaven, pray for us who have recourse to thee.