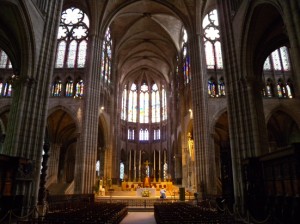 A few years ago I found myself in Paris for several days. I went to as many Catholic sites as I could find, and that I could fit into my stay. One of those sites was St. Denis, the ancient necropolis of the royal family of France.
I had read in a guidebook that one was still able to walk the ancient route of St. Denis from the city center out to the suburb of St. Denis. And somehow in my mind this became a quasi-romantic notion, which took hold of me as a fitting tribute for a pilgrimage to the resting place of St. Louis, King of France.
I decided to walk the ancient route of St. Denis. I certainly needed the exercise after spending several days in Normandy.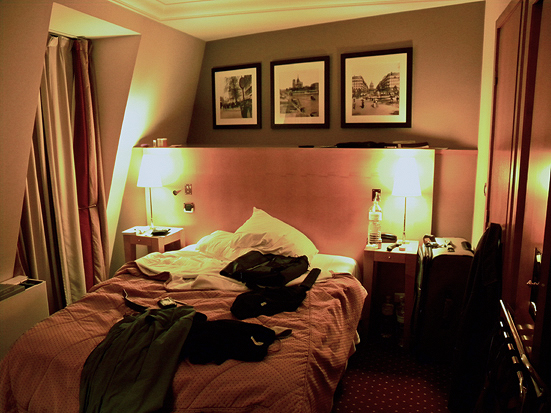 And it's not like you do enough walking in Paris anyway. (Not.)
I really spread out in a hotel room, and this cozy space was no exception. A great bed, a great desk, and a great tub; that's about all I need in a room. It was a dark and overcast morning, and I slept in a bit.
But only a bit, because doesn't everyone want to walk the ancient route of St. Denis while in Paris?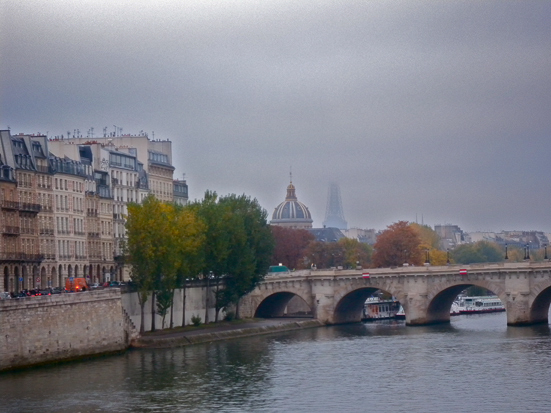 In fact, it was very overcast.
And, in fact, the ancient route of St. Denis is not a route I'd recommend to anyone. You walk through some interesting neighborhoods for sure.
But they include a red light district lined with adult theaters, and some other questionable areas intermixed with relatively nice ones. You end up near the Stade de France, and then walk into the ancient neighborhood of St. Denis.
Making a final bend into the ancient suburb, I passed an elderly Indian woman who was using the restroom under a tree, and cleaning herself. I was slightly aghast, mainly because of my stupidity in thinking this would have been a great walk to take.
You can see the Church as you continue walking, but once you get into the 'hood, it's actually pretty hard to find it, hidden from view by the buildings surrounding it, amidst the winding streets.
My exasperation grew until suddenly, a large alleyway opened up, and there it was. There's a Metro station right next to it.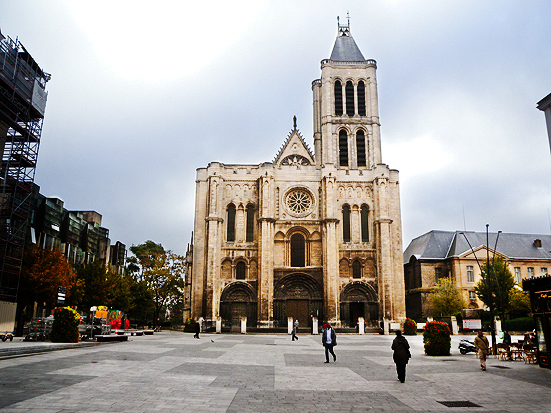 It's really very beautiful.
The neighborhood is filled with Muslim immigrants.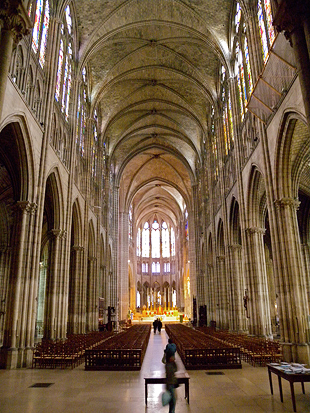 I was filled with wonder, imagining the Masses and religious ceremonies which had taken place here. (Can you imagine how long it would take a wedding procession to enter in here? 30 minutes at least.)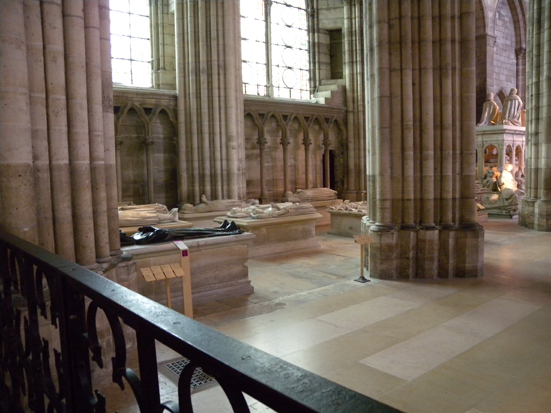 These tombs were preserved in the Revolution, as artworks. The bodies within were removed, and eventually returned and reburied in a crypt in the basement. The ground level is filled with these flat tombs, or other tombs with bodies in repose…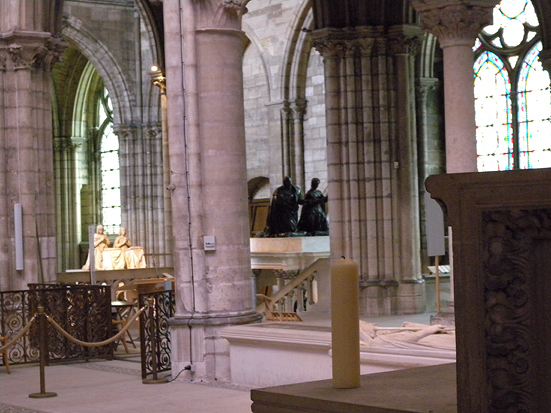 And from the chapel on the higher level, the tops of some of the tombs have images of the deceased kneeling, so it looks as if they are assisting at Mass, or praying in Heaven.
I thought that was wonderful, though everyone I explained it to when I was showing pictures looked at me and said "Uhm, hmm," as if it's the most common thing in the world. And I then I felt ignorant. Though not very; I had simply never seen it before.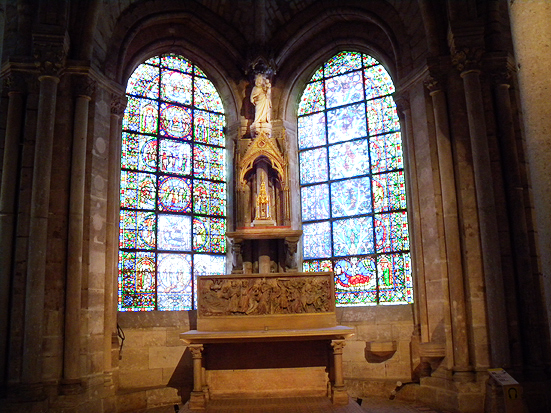 A small chapel in the very end of the Church contains the remains of Louis, a part of one of his fingers; an unfortunate result of dying in a foreign country, and having religious wars break out in your own. God bless him, and may he rest in peace. I stopped to pray awhile.
All in all, I'd highly recommend a trip to St. Denis while in Paris. I'd highly recommend against walking the ancient route of St. Denis.
But I felt that no trip to France would have been complete without a visit to St. Louis, and I'm very thankful for the entire opportunity.
Amen.