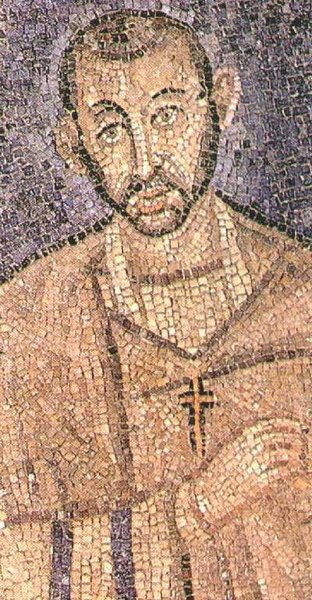 St. Ambrose, a Father of the Church, is certainly an interesting character to study. Take for instance this bio-blurb from the Catholic Encyclopedia over at New Advent.
Through the door of his chamber, wide open the livelong day, and crossed unannounced by all, of whatever estate, who had any sort of business with him, we catch a clear glimpse of his daily life. In the promiscuous throng of his visitors, the high official who seeks his advice upon some weighty affair of state is elbowed by some anxious questioner who wishes to have his doubts removed, or some repentant sinner who comes to make a secret confession of his offenses, certain that the Saint "would reveal his sins to none but God alone" (Paulinus, Vita, xxxix). He ate but sparingly, dining only on Saturdays and Sundays and festivals of the more celebrated martyrs. His long nocturnal vigils were spent in prayer, in attending to his vast correspondence, and in penning down the thoughts that had occurred to him during the day in his oft-interrupted readings. His indefatigable industry and methodical habits explain how so busy a man found time to compose so many valuable books. Every day, he tells us, he offered up the Holy Sacrifice for his people (pro quibus ego quotidie instauro sacrificium). Every Sunday his eloquent discourses drew immense crowds to the Basilica. One favorite topic of his was the excellence of virginity, and so successful was he in persuading maidens to adopt the religious profession that many a mother refused to permit her daughters to listen to his words. The saint was forced to refute the charge that he was depopulating the empire, by quaintly appealing to the young men as to whether any of them experienced any difficulty in finding wives. He contends, and the experience of ages sustains his contention (De Virg., vii) that the population increases in direct proportion to the esteem in which virginity is held. His sermons, as was to be expected, were intensely practical, replete with pithy rules of conduct which have remained as household words among Christians. In his method of biblical interpretation all the personages of Holy Writ, from Adam down, stand out before the people as living beings, bearing each his distinct message from God for the instruction of the present generation. He did not write his sermons, but spoke them from the abundance of his heart; and from notes taken during their delivery he compiled almost all the treatises of his that are extant.
St. Ambrose, pray for us that we may as we grow closer to Jesus Christ, the Lord of all ages.