Babel, Babel, Babble babble babble…. I've always wondered why, after the Lord gives the mandate to go forth and subdue the earth, He immediately gets upset when the people decide to build the Tower of Babel. Perhaps it's because they wanted to build a tower 'to the sky', where they would then be more like God… a contravening of the covenant, and an upswelling of pride the likes of which probably had not been seen since the catastrophic fall of Adam and Eve.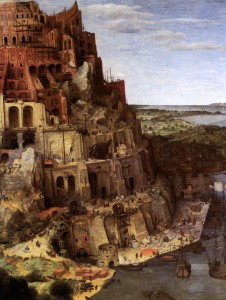 Restoration calls us to repentance, very much in line with the pre-lapsarian view of creation: we're called to subdue the earth and be victorious over it, and yet all the while we have an intimate covenantal relationship with our creator.
Perfect thoughts for a Penitential Friday.
I loved this reading from the Office this morning, via St. Augustine: "God means to fill each of you with what is good; so cast out what is bad! If he wishes to fill you with honey and you are full of sour wine, where is the honey to go? The vessel must be emptied of its contents and then be cleansed. Yes, it must be cleansed even if you have to work hard and scour it."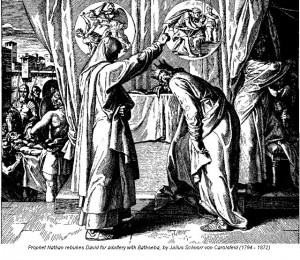 The Gospel echoes this theme of repentance, renewal, penance:
"Whoever wishes to come after me must deny himself,
take up his cross, and follow me.
For whoever wishes to save his life will lose it,
but whoever loses his life for my sake
and that of the Gospel will save it.
What profit is there for one to gain the whole world
and forfeit his life?"
Penance. It's a good thing.
Clear out our hearts and our minds, seek to renew our relationship with Jesus Christ in simple ways, and pray for the grace of true repentance.
I love Fridays.